When you have teeth that are not straight or overlap each other, it can be hard to smile with confidence. You're not sure if you should or how to do so with confidence. With orthodontics help, we may get rid of the problems and give you a smile you love. All you have to do is learn more about our specialty orthodontic services and schedule a consultation with our orthodontist at Lovett Dental West U.
Who Qualifies for Orthodontics?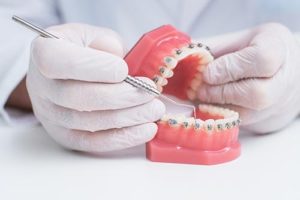 Every situation is different. We always recommend working closely with our team to have a formal consultation to discuss what's really happening to your teeth and how we can fix it. Our orthodontist provides comprehensive services to both children and adults. If you are unhappy with your smile, we want to learn more about how we can help.
Our orthodontic services may help in a wide range of conditions. This may include:
Overbites
Underbites
TMJ disorder misalignments
Tooth crowding
Gaps
These are just a few examples of how we may be able to help you improve your smile using orthodontics and dental services. Remember that it may be easier to achieve these goals of a healthy smile than you realize.
What Happens When You Meet Your Orthodontist?
When you schedule a consultation for orthodontic services, our professionals will talk to you about your options. Your orthodontist will use imaging, including x-rays, to understand the layout and positioning of your teeth. We will then talk to you about products that may help you and give you some indication of how well they can work. The outcome in every situation is different, but we have advanced therapies that can help with most situations.
Bracing Technology In Southwest Houston
One of the most commonly used options in orthodontics is braces. These are designed to adhere to the surface of the tooth. Over time, we work to tighten and adjust these brackets in such a way as to change the positioning of your teeth. This is a slow process because we do not want to damage the tooth's nerves or structure. Metal and ceramic braces are two of the options we offer. Ceramic braces can be made clear to make them harder to see.
Clear Tray Aligners
We also utilize clear tray aligners. Instead of attaching to your teeth, the tray aligner is designed to fit the position desired in the mouth. They work to move your teeth into place slowly but without much pain at all. In fact, tray aligners can be very effective, take less time than other orthodontics, and they can allow you to take them out, so no one sees them that you don't want to.
Wearing braces can really turn your smile around, giving you a more even set of teeth that you will be excited to show off. Children and adults can both benefit from having orthodontal work done. With so many different types of braces available, you may not even need to wear traditional wire variety. If you are located in Houston's West U area and are interested in straightening your teeth, schedule an appointment today to see which type of braces can give you the smile you want. 
An Orthodontist Can Align Your Teeth
Dental braces correct many common misalignment issues with teeth. These issues often appear in childhood. Braces may help to counter the following:
Crooked teeth

Gaps in teeth

Jaw misalignments

Top teeth that sit too far over and in front of the bottom teeth (overbite)

Bottom teeth that rest too far in front of the top teeth (underbite)
Children usually get braces after all of their adult teeth grow. During this time, the jaw is still growing. 
By wearing braces during childhood, the orthodontic treatment may take less time than it would for an adult. However, it's never too late to get braces. Even adults can have corrections to their smiles with dental braces.
Which Option In Houston, Texas Is Right for You?
You do not have to make that decision yet. Instead, please schedule a consultation for orthodontic services with our orthodontist now. Then, come in and learn more about the process and the procedures. There is no pressure to act now – we know it is a big decision. That's why we recommend a consultation as a first step.
Lovett Dental West U provides for all of your orthodontics needs. We also provide for any other type of dental health care you need. Orthodontics is just one component of the work we do. You can learn more about our services, including:
You Can Have a Beautiful Smile in Houston, Texas with Lovett Dental West U
It's hard to decide to get orthodontics services. Yet, when you have a friendly, skilled orthodontist to help you, you do not have to worry about the process. For a no-pressure consultation about orthodontic services, call our offices today. We're here to help you. Contact Lovett Dental West U at 832-617-5530 now.