It's often extremely difficult to feel confident when you have damaged, broken, or missing teeth. You may feel as though everyone is looking at your mouth. You may even try to shield it with your hands or otherwise conceal it and dream about the day you can have the smile you deserve. In addition to the aesthetic issues that stem from damaged and missing teeth, these issues can also affect your oral health. If a tooth becomes loose over time or is missing altogether, it can cause the surrounding teeth to shift slightly, for example. This eventually leads to more serious problems in those teeth and can also result in difficulty speaking and chewing.
Fortunately, Lovett Dental West U has several solutions to ensure that you get your beautiful, healthy smile back. Both dental crowns and bridges can restore teeth functionality in situations where teeth are broken, badly damaged or decayed, or missing, plus they look exactly like your normal teeth.
What's the Difference Between Dental Crowns and Bridges?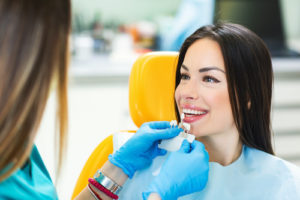 In most cases, crowns are used when teeth are badly damaged or decayed but still healthy enough to be worth saving. They completely cover, or "crown," the damaged teeth, helping to strengthen them. Dental crowns can be made from many materials but are most commonly made of porcelain or ceramic. Lovett Dental West U uses porcelain dental crowns because of their exceptional durability and how closely they resemble natural teeth.
Dental bridges quite literally bridge the gap created by missing teeth in the mouth. They are made of a series of porcelain crowns designed to completely replace the missing teeth while anchoring to healthy existing teeth on either side of the gap.
Dental Crowns
A crown is an excellent option when a significant portion of a tooth has been damaged or lost, but there's still some intact, healthy tooth remaining. As individual teeth decay or become damaged or broken, their strength is compromised. They are much more likely to crack, chip, or otherwise sustain further damage. This can harm the surrounding healthy teeth and the mouth as a whole.
Dental crowns are fixed prosthetic devices that are permanently cemented onto existing teeth or dental implants. The porcelain crown completely covers the remaining tooth, strengthening it and restoring normal function. Lovett Dental West U customizes dental crowns to match patients' natural teeth in terms of color, size, and shape.
You may be a good candidate for dental crowns if you:
Have decayed, cracked, or substantially chipped teeth
Have had root canals
Have fillings that are significantly large, loose, or cracked
Dental Bridges
When teeth are beyond repair or missing altogether, fixed dental bridges are ideal. Bridges most often use the two natural teeth on either side of the missing tooth as anchors but can also use dental implants where several teeth are missing. Those anchor teeth are crowned and support the middle crown where the tooth is gone completely. Three-unit fixed bridges are the most common, but longer bridges can also be created when there are multiple missing or badly damaged teeth.
You may be a good candidate for dental bridges if you:
Have one or more missing teeth
Need to protect other teeth and restore mouth functionality
Want to upgrade from a removable solution like dentures
Learn More About Dental Crowns and Bridges at Lovett Dental West U
To learn more about whether dental bridges or crowns may be right for you, reach out to Lovett Dental West U online or call us at 832-617-5530 today. Don't let damaged, broken, or missing teeth stand in the way of you living your life to the fullest any longer. In addition to porcelain dental crowns and bridges, we also offer a wide range of multi-disciplinary dental and orthodontic services, including pediatric dentistry, braces, veneers, periodontics, oral surgery, and much more. We look forward to helping you get your smile back – bigger, brighter, and better than ever.