At Lovett Dental West U, we offer general dentistry services that include both dental sealants and fillings. If you have teeth in need of repair from tooth decay or would like to take measures to prevent decay, it is worth learning a little bit more about the difference between these two procedures. To this end, our experienced general dentistry specialists have put together the following guide. To learn more, contact Lovett Dental West U online or give us a call at 832-617-5530 today! 
What Are Dental Fillings?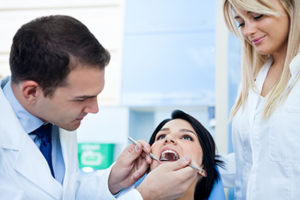 Dental fillings — also called "composites" — match the color of your natural teeth. Fillings are used to repair teeth damaged by cracks, decay, and fractures. During this procedure, our team of general dentists remove decay and prepare the tooth for a composite filling.
As part of the process, your dentist matches the filling to the color of your natural teeth. This results in a more aesthetic look, which is particularly important for the front teeth.
We install dental fillings to treat the following conditions:
Worn teeth

Chips and cracks

Broken teeth

Decayed teeth

Gaps between teeth
Dental Sealants vs. Dental Fillings
Dental fillings and dental sealants serve different purposes. Below, we look at the purposes of each of these procedures and when they are used. Both are designed to help you achieve optimal oral health. Additionally, they represent an important part of general dentistry.
The Purposes of Dental Fillings and Dental Sealants
Dental sealants prevent tooth decay when applied to molars. This is typically done for children as an optional treatment to fill in crevices where cavities form. Dental sealants provide a shield for the enamel and protect the tooth from cavities by preventing food particles from accumulating on and between the back teeth. Without debris trapped in the crevices, the tooth has a better chance of avoiding decay.
Dental fillings, on the other hand, restore teeth that have already been damaged by decay. When your dentist removes the decay, dental fillings are used to fill in the resulting hole. This prevents future cavities and protects the root of the tooth.
Differences in Materials Used in Dental Sealants and Dental Fillings
Dental fillings and dental sealants are made of different materials. Manufacturers use plastic for dental sealants, but dental fillings are made from amalgam or composite materials.
The Permanence of Dental Fillings vs. Dental Sealants
With proper oral hygiene, both dental sealants and fillings can last a long time. Sealants usually last a few months, whereas fillings can last for decades if the underlying tooth remains sound.
Dentists use sealants as temporary measures to protect the teeth. They paint the sealant over the molar, and it can wear off easily if you chew gum or eat sticky foods. For individuals who grind their teeth, the sealant may also wear off more quickly.
General Dentistry Services at Lovett Dental West U
Our general dentists perform several services, including dental fillings and sealants. Here are some of the most common dental procedures we perform at our office:
Checkups

Dental fillings

 and sealants
Root canals
Tooth extractions
Dental crowns and bridges
We also perform cosmetic dentistry and services for the whole family. Whether you need pediatric dental care for your children or checkups for the adults in the family, come to Lovett Dental West U.
Tell us your dental health goals, and we can suggest services that protect and brighten your smile. We are happy to provide consecutive appointments to accommodate your schedule.
Learn More About Dental Sealants

 and 

Dental Fillings

at Lovett Dental West U

Whether you need a general dentist or cosmetic specialist, you're in good hands at Lovett Dental West U. We also have orthodontists and other specialists to provide complete dental care for our clients.

We know how busy modern life can be. Contact us online today or call us at 832-617-5530 to set up an appointment or consultation. We welcome any questions you have regarding dental fillings, dental sealants, and any of the other services we offer at Lovett Dental West U.