At Lovett Dental West U, we place the needs of our patients ahead of our own. We understand that many people are nervous about coming to visit the dentist. We have a variety of office locations in the local area, and we provide a wide range of general dentistry services to meet our patients' needs. We want to make sure that everyone is as comfortable as possible when they come to see us. Therefore, we also provide something called sedation dentistry services. Learn more about how sedation dentistry might be able to help you during your next visit to the dentist.
Sedation Dentistry Might Help People Access the Dentist More Often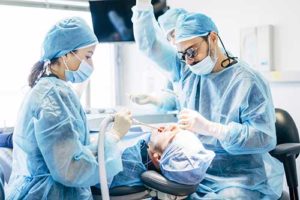 Everyone must take care of their oral health. We understand that some people haven't been to the dentist in a long time. According to statistics that have been published by the Centers for Disease Control and Prevention (CDC):
More than a third of adults have not been to visit the dentist in the past year.
More than 15 percent of children have not had a dental visit in more than 12 months.
Between 15 and 20 percent of children have cavities that have not been treated.
Close to a third of all adults between the ages of 20 and 44 have cavities that have not been treated.
There are many barriers to oral healthcare; however, one of the barriers should not be discomfort in the dental chair. That is where sedation dentistry can be helpful. At Lovett Dental West U, we have opportunities to make our patients more comfortable when they come to visit us for dental services using light sedation.
What Is Sedation Dentistry?
A sedation dentist has been trained to use medications to help people feel more comfortable in the dental chair. Even though this is commonly called "sleep dentistry," this is not the same thing. The reality is that patients are usually still awake on sedation dentistry methods are employed. Some of the levels of sedation that we provide include:
Minimal sedation: With minimal sedation, you are still awake but feel more relaxed
Moderate sedation: You are still going to be awake with moderate sedation; however, you will probably not remember much of the procedure
Deep sedation: You are technically still conscious but are very close to falling asleep
In some cases, we may also use general anesthesia, which means that you are completely unconscious. This is usually only reserved for surgical procedures such as specialty dental services.
What Are the Benefits of Dental Sedation?
Several benefits come with sedation dentistry. One of the biggest benefits is that people will be more comfortable when they come to our office. Everyone must make sure that they get dental cleanings twice per year. If there are any issues, we need to be able to address them. Sometimes, people are so nervous about going to the dentist that they actually skip these visits. Sedation is a way to overcome this hurdle.
Also, we can use sedation to help people remain still during the visit. This makes it easier for us to do our jobs, providing you with better results. Trust the team from Lovett Dental to help you with your general dentistry needs.
Contact Lovett Dental West U Today To Learn More About Sedation Dentistry
If you are interested in learning more about sedation dentistry services, explore what Lovett Dental West U offers. Our team will gladly help you with all of your dental needs, and we have ways to make you feel more comfortable when you come to visit us. Whether for individuals, families, or children, we can provide high-quality dental care you need. Contact us today at 832-617-5530 to make an appointment with our team.