Do you feel confident when you smile? Are you missing any visible teeth, or do you need to have all your teeth pulled? If so, you are right to wonder what life is like with dentures. Dental dentures are a sure-fire way to replace your teeth and maintain your lifestyle, beautiful smile, and self-esteem. Caring for your dentures is easier than you think. The care and maintenance are done daily but takes no more time than brushing and flossing. To help you know what to expect after you've had your dentures made and fitted, contact our team at Lovett Dental West U.
What Are Dentures?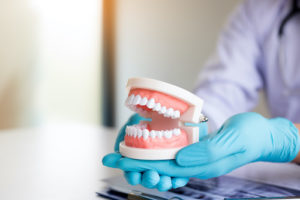 Dentures are worn to replace missing teeth. They're made of either metal or plastic, otherwise known as acrylic materials. Some people have full dentures, replacing both the top and the bottom, while others use a partial denture to fill those spaces left by missing teeth. You may have heard about dentures slipping or fitting poorly in the mouth. Advances in denture technology make these occurrences largely a thing of the past.
Additionally, wearing dentures has many benefits. Seeking dental services such as dentures help improve your smile, encourage you to eat better, and allow you to speak more clearly.
Denture Options
Not sure which dentures are right for you? There are key differences you'll need to understand when it comes to denture options. First of all, you'll either have full dentures or a partial denture, both of which are removable. In the case of tooth extraction, your dentures will be fitted to your mouth about four two to three months after teeth have been removed. Custom dentures are a popular option as they give a more natural look and feel. There are also implant-supported dentures, snap-in dentures, overdentures, upper dentures, and economy dentures. Talk to your dentist about which option is right for you.
Daily Denture Care
There are several ways to make sure that your dentures last a lifetime. These include, but are not limited to:
Cleaning your dentures every day is necessary.
When you're not wearing them, it's recommended to place your dentures in cold water or a cleaning solution to sit. This will prevent the dentures from drying out and losing their shape.
Dentures are fragile, so you'll want to clean them over a bowl of water or soft towel if you drop them because they will break.
Brush the surfaces of your dentures, including the areas where they fit your gums. Brushing dentures will remove any food.
Don't use toothpaste. Instead, purchase a non-abrasive denture cleaning solution. Don't scrub too hard. Instead go gently, to avoid damaging your dentures.
It is important to soak your dentures, typically at night when you're sleeping, to keep them sparkling clean. The soak will remove plaque buildup, as well as any stains.
Denture Maintenance
If you notice stubborn stains on your dentures, the dental team at Lovett Dental West U can give them professional teeth cleanings, which will brighten your smile. Otherwise, it's recommended to keep pace with your regular dental checkups to have your remaining teeth and gums properly cleaned. For a full set of dentures, ask the team at Lovett Dental West U in Texas how often you should come in for a check-up. If your dentures warp and no longer fit properly, it's not a good idea to use adhesives. Instead, your dentures can be relined or replaced.
Losing some or all of your teeth can be easily remedied with dentures. The cost and daily care that goes into them are trivial compared to the fact that you will have a new set of teeth that will help you eat, speak, and feel good about yourself.
Reach Out to Lovett Dental West U Today
To learn more about dentures or schedule an appointment with Lovett Dental West U, give our friendly team a call today at 832-617-5530. We'll answer all your questions and address any concerns you may have as we get you set up for a consultation at your convenience.