At Lovett Dental West U, we pride ourselves on the services we provide to our patients. Our goal is to make our oral healthcare as comprehensive as possible. Even though we recommend that patients come to us twice per year for regular cleanings, we understand that acute issues might arise. That is why we also provide oral surgery. If you have been told that you might need dental surgery in the local area, then there are a few important points that you should keep in mind.
Why Is Oral Surgery Necessary?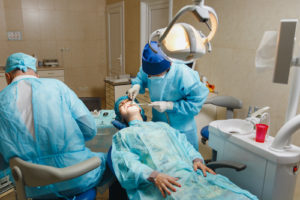 At Lovett Dental West U, we do not recommend oral surgery unless we believe that it is necessary. Some of the most common reasons why we might recommend dental surgery or other specialty dental services include:
There are wisdom teeth in your mouth that are starting to cause symptoms, and they need to be removed.
There are serious conditions impacting your palate, lips, jaw, or face that need to be addressed.
There could be obstructive issues that are leading to sleep apnea or dental infections.
You might have been involved in a serious accident that requires the repair of bones in your jaw or face.
You might be experiencing widespread tooth decay that needs to be addressed with surgery.
According to information that has been published by the National Institute of Dental and Craniofacial Research (NIDCR), more than 90 percent of adults between the ages of 20 and 64 have experienced cavities in their permanent teeth. For this reason, we try to address all issues related to tooth decay as quickly as possible. There are some situations where oral surgery might still be necessary.
Planning for Oral Surgery
We understand that you do not take surgical procedures lightly. Neither do we. That is why we go through a comprehensive procedure to ensure that you are ready for your procedure. First, we will take a thorough look at your medical history to make sure that you do not have any conditions that might prevent you from having surgery. Then, we will take images of your teeth, jaw, and face to make sure that we have an exact approach planned for the day of the procedure. Finally, we will also answer any questions that you have related to the procedure. We are going to walk with you every step of the way.
Recovering from Dental Surgery
After the procedure is finished, we will stay with you during the recovery process. Some of the tips that you should keep in mind during the recovery from oral surgery include:
Your pain should be well-controlled. Your dentist might prescribe you stronger pain medication in case over-the-counter anti-inflammatory medications are not enough.
You should not smoke before or after the procedure, as this can slow the healing process in addition to leading to a variety of other health conditions.
If your dentist recommends a specific diet for a period of time after the procedure, try to follow this to expedite the recovery process.
Do not drink from a straw for the first few days following oral surgery, as it could dislodge the blood clot and lead to severe bleeding.
If any issues do arise, we do offer emergency dental services. We are always available to help our patients in need.
Contact Lovett Dental West U for Your Oral Surgery Needs
At Lovett Dental West U, we place the needs of our patients ahead of our own. We will be happy to do the same for you. If you have any questions about dental surgery, please give us a call today. Reach out to us at 832-617-5530 to make an appointment with one of our dentists or surgeons.