It's vital to find a dentist who can provide you with the comprehensive oral health services you need. At Lovett Dental West U, we are here to help you do exactly that. In addition to our general dentistry services, we also provide cosmetic dental bonding services. This is a common dental procedure that not only improves the look of your teeth but also restores your teeth's functionality. When it comes to dental bonding, you need to understand what will happen and how this process works. Please take a look at a few of the most important points that we have put together below.
What Is Dental Bonding?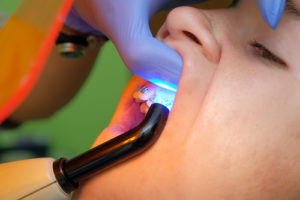 Dental bonding — also referred to as "teeth bonding" — uses a soft, composite resin to adjust or fill cracks or chips present in the teeth. Because the resin is pliable, the dentist can mold the composite into just about any shape. Once the doctor and the patient are satisfied with the way the resin is sitting, a special light is used to seal the bonding, hardening it.
According to multiple research studies, chipped and cracked teeth are far more common than people realize. Therefore, it is critical to have a reliable, efficient treatment method. That is exactly what dental bonding and dental fillings and sealants provide. One of the most common applications of this procedure involves a procedure called "front-teeth bonding," which we recommend when someone has chipped or cracked one of their front teeth. Of course, this procedure can be used in any location in the mouth. As a result, patients need to know how to prepare for this procedure.
How Do Dentists and Patients Prepare for Dental Bonding?
The first step in this procedure is to make an accurate diagnosis. To accomplish this, the dentist will:
Take an oral health history and determine the extent of the damage to the teeth.
Perform a complete physical examination, carefully examining the teeth on all sides.
Use imaging modalities to understand better what is happening beneath the surface. This will allow your dentist to ensure that dental bonding is an appropriate solution.
Answer any questions the patient might have.
Once all of the patient's questions have been answered, the dentist and the patient will set a procedure date.
During and After the Dental Bonding Procedure
Many people have questions about the level of discomfort during the procedure. The good news is that this procedure is completely painless. Patients do not require any anesthesia.
Even though the light is used to affix the resin, this process can take some time to complete, and so you may need to be careful in the days following the procedure. For instance, your dentist might tell you to avoid certain foods and drinks in the days that follow, or you might be told to avoid drinking from a straw for a certain amount of time. Make sure that you adhere to this and any other dietary restrictions set by your dentist to avoid any complications with the procedure. Of course, if anything happens to the resin, we also provide emergency dental services to ensure that we address them quickly and efficiently.
Contact Lovett Dental West U Today for Dental Bonding Services
If you think that you might need dental bonding services, then look no further than Lovett Dental West U. We provide a wide array of services to make sure that we can meet all of you and your family's dental needs. Whether you need a simple dental cleaning or a more complex procedure like dental bonding, Lovett Dental West U has a solution for you. To make an appointment with one of our oral health specialists, contact us online today or give us a call at 832-617-5530.