At Lovett Dental West U, we are proud of our oral health services. Our goal is to ensure that all of our patients have access to comprehensive general dentistry services, including regular cleanings. At the same time, we provide specialty services as well. This includes periodontics, a specialized field of dentistry. A periodontist's goal is to treat oral inflammation, focus on the supporting structures of the teeth, and place dental implants.
What Problems Can a Periodontist Treat?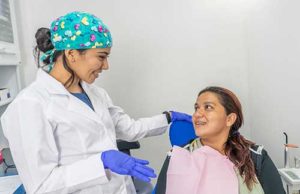 Periodontal treatment can address a wide variety of oral health concerns, including tooth decay. Some of the issues that a periodontist may address include:
Scaling and planing roots, which are techniques used to treat infected root surfaces
Root debridement, which focuses on the removal of damaged root tissue
Severe gum disease treatment
Surgical procedures
The placement, maintenance, and repair of permanent dental implants
What Can I Expect at a Visit to the Periodontist?
If you plan to see your periodontist soon, you should be prepared to have a detailed discussion about your oral health history. You will also be asked to talk about any medications that you are currently taking with your periodontist, as this may impact the course of your treatment.
Then, the periodontist will provide a thorough examination of your teeth, gums, and underlying structures. They may order some dental imaging in order to get a look at what is going on underneath the surface. Finally, the periodontist may recommend specialized periodontal procedures or other dental services to address your dental concerns.
How Does a Periodontist Place a Dental Implant?
One of the most important procedures in periodontics is the placement of a dental implant. Even though this type of dental specialist can address a wide range of specialty dental services, dental implants are among the most common.
The first step in placing a dental implant is to ensure the cap is large enough to fit a tooth. If you have recently undergone a dental injury, there's a good chance that the gap is already wide enough. If you had been missing a tooth from birth, then the periodontist may need to make the gap wider with braces or other dental equipment.
Additionally, the periodontist will ensure that your gums, jaw, and mouth are strong enough to support a dental implant. This may be determined using dental imaging.
Finally, on the day of the procedure, the periodontist will place a screw in your jaw. This will be followed by a cap once the screw is securely embedded in your jaw. They will also make sure that the shading of the cap matches the rest of your teeth.
What Are the Benefits of Dental Implants?
There are numerous benefits to getting dental implants. Some of the major advantages of this procedure include:
A dental implant is permanent.
The procedure is short, the recovery process is brief, and the procedure is generally painless.
You will be able to eat a regular diet with a dental implant.
Your smile will be restored.
The maintenance of a dental implant at the same as maintenance for your regular teeth
These are just a few of the biggest benefits of having a dental implant placed.
Contact Lovett Dental West U to Learn More About Periodontics
If you would like to learn more about periodontal treatment, reach out to the team at Lovett Dental West U. Our team is ready and willing to make sure that your teeth are as healthy and attractive as they can be. Reach out to us online today or call us at 832-617-5530 to make an appointment with a member of our experienced, compassionate staff.