There are any number of things that can go wrong with your dental health over time. Preventative dentistry offers the protection you need to keep most of those things from happening. Preventive dentistry is done both by your Houston dentist and by you at home. With good general dental care, a number of oral health problems can be avoided, such as cavities, gum disease, enamel loss, and much more.
Preventative Dentistry at Home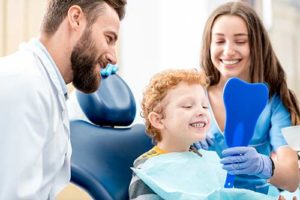 At Lovett Dental West U, we want our Houston dental patients to understand the importance of practicing preventative dentistry at home. When you do these things every day, they grow into habits that can help ensure a lifetime of good dental health. The following are ways to practice preventative dental care at home:
Brush Teeth After Every Meal
Brush teeth with fluoride toothpaste after every meal and snack. This helps to ensure that food particles don't become a food source for harmful bacteria in your mouth. Your Lovett West U dentist recommends keeping a spare toothbrush and toothpaste in your office drawer so you can practice preventative dentistry at work, too. If you're working from home due to the pandemic, it should be even easier to practice preventative dental care.
Floss After Brushing
Even the best tooth brushing sometimes misses food particles that get trapped between teeth. Use your favorite dental floss after you brush. If you have questions about the best flossing techniques, ask your West U dentist to demonstrate at your next appointment.
Make Regular Dental Visits
Seeing your dentist on a regular basis is an essential part of preventative dentistry. This is when you'll get deep teeth cleanings as well as treatments to keep potential problems from developing into something more serious.
Consider Dental Sealants
Dental sealants are a type of preventative dentistry treatment that may be appropriate for you or your child. Dental sealants work to prevent food particles and bacteria from making contact with your tooth's enamel. In turn, this significantly cuts down on the likelihood of cavities and gum disease. Dental sealant treatment is done right in your dentist's office. It's completely pain-free and requires no anesthesia.
Eat Your Vitamins
Vitamins and supplements are a billion-dollar business. But for the healthiest teeth and gums, get your vitamins and minerals by eating a diet of whole foods as much as possible. Just like other parts of your body, your teeth, gums, and even your jawbone require adequate amounts of vitamins and minerals like Vitamin C and calcium. Without these, your dental health is likely to decline, leaving you susceptible to all kinds of dental health issues.
Benefits of Preventative Dentistry
Preventative dentistry doesn't just protect your oral health, although that is the main benefit. When you have dental health problems, other issues can develop in other areas of your body. Some issues that have been linked to poor dental health include:
Cancer

Blood disease

Respiratory illness

Heart disease

Diabetes
Learn From the Best at Lovett Dental West U
Another huge benefit of preventative dentistry services is the financial impact. In general, smaller problems cost less to treat than larger problems. If you and your dentist work together on preventive dental care, it's less likely that you'll ever need more expensive treatments like a root canal, dental implants, or tooth replacement. Making sure that you practice good dental habits at home and see your dentist regularly could completely get rid you of your vulnerability to such things as cavities and gum disease. Contact Lovett Dental to learn more about the following dental services:
For a lifetime of optimal dental health, practice preventative dentistry at home and work. And, make sure you visit your Houston dentist on a regular basis. To book your appointment now, please contact Lovett Dental West U at 832-617-5530.