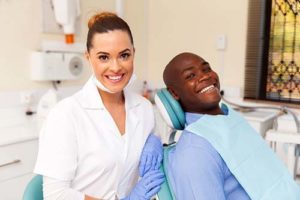 Getting regular teeth cleanings can help you avoid cavities and tooth pain. Regularly brushing and flossing can keep teeth healthy; however, it makes sense to have a more thorough cleaning from time to time to make sure all areas of your mouth are cleared of plaque. Teeth cleaning and dental exams at Lovett Dental West U offer an easy way to not only maintain a healthy smile and prevent a cavity.
Benefits of Teeth Cleaning
No matter how well you brush and floss, it's impossible to reach every nook and cranny in your mouth. There are always difficult to reach areas between your teeth. In these areas, bacteria can build up. Plaque is a sticky film on your teeth containing bacteria. If left untreated, plaque can harden, creating tartar, which can only be removed through professional means. This buildup can cause a cavity to form. This can lead to tooth decay, gum disease, and cavities.
Teeth Cleaning Options
At Lovett Dental West U, our experienced hygienists and skilled dentists make your teeth cleaning a simple procedure. A thorough exam is first conducted, which may include:
Taking diagnostic x-ray imaging
Checking for signs of gum disease
Checking for tooth decay
Evaluating the condition of restorations
Checking for visible cavities
Screening for oral cancer
This is part of our standard dental cleaning procedure to check for any serious issues that may need to be addressed. Results will be discussed with you so you know exactly what your options are. After your examination, your dentist will use the scaler and mirror to address any areas of tartar buildup.
Once removed, you'll have the option of having a deep clean done. This kind of teeth cleaning is called scaling or root planing. It's a way to prevent or address periodontal issues, such as gum disease. After their teeth cleaning, clients may also elect to have fluoride treatment done to strengthen their teeth or a dental sealant be applied to prevent cavities from forming.
Dental Cleanings at Lovett Dental West U
At Lovett Dental West U, we're dedicated to maintaining and improving your oral health. We recommend scheduling a check-up every six months. During these twice-yearly dental exams, your dentist can monitor your oral hygiene and gum health. During your general dentistry check-ups, having a routine tooth cleaning done reduces the risk of any more serious issues like cavities or gum disease from developing.
Aside from teeth cleaning, West U also provides:
Learn More at Lovett Dental West U
Routine teeth cleaning is the best way to prevent plaque buildup in the hard to reach areas of your mouth. It is also the only way to eliminate tartar temporarily. Your dental hygienist or dentist will use a scaler and mirror to scrape tartar away from your gum line and between your teeth. It is a painless process that improves your teeth and gums' look, feel, and health. If you are looking to get a dental cleaning in the West U or Rice Village areas in Houston, contact Lovett Dental West U.
Schedule your next teeth cleaning in West U by calling us at 832-617-5530.