Do you have gaps in your teeth from missing or removed teeth? Over time, these may develop into an indentation or an area where it looks like the gums are wearing away. Ridge augmentation may be a solution for this. At Lovett Dental West U, we offer comprehensive ridge augmentation services to restore your jawbone health and your smile. And the best part is, our office can help you with this need right away.
Why Is Ridge Augmentation Necessary?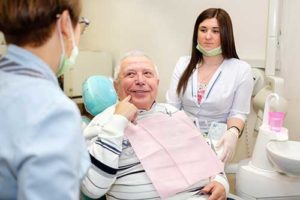 If you have lost a tooth or have had a tooth extraction, perhaps due to tooth decay or an injury, you may have an open gap present. That gap can be problematic for various reasons, such as allowing other teeth to crowd the area. However, it can also happen that the jawbone in the area starts to recede. Because it does not have any tooth to support, it starts to breakdown. When that happens, the area has a large indentation. This can create both damage to and misalignment of your other teeth.
Ridge augmentation is a procedure that encourages healthy bone growth in the area. We use bone from another area of the body to do this. Ridge augmentation looks slightly different for every patient, but the main steps are as follows:
We complete a full assessment of your condition, including X-rays and diagnostic exams.
We harvest a bone from another area of the body to be grafted.
The gum area is surgically opened to expose the bone.
The grafted bone is placed and secured.
The gums are closed up, and the area heals.
When we use ridge augmentation like this, it can help to improve the bone in several ways. First, the existing bone starts to grow to attach to the new bone. That new bone is already working to fill in the gap area. Over a few weeks, that area becomes very strong and durable, and in this sense, ridge augmentation promotes healthy bone growth. The aesthetic issues associated with your condition also become less noticeable and more natural-looking.
Life After Ridge Augmentation Services: Next Steps
After your ridge augmentation, we will discuss the wide range of concerns about leaving that open gap present. You may decide it is time to find a solution. Our team may make several recommendations for you, including:
Dental veneer applications
All of this depends on the specific conditions in your mouth and what is causing them. At Lovett Dental West U, our goal is always to ensure your oral health needs are met. Sometimes, individuals with periodontal disease are more likely to develop this type of damage to the jawbone. As a result, we may recommend the use of ridge augmentation services followed by periodontal disease treatment. This can help to improve your oral health and provide more of a long-term solution.
Should I Follow Up My Ridge Augmentation with a Dental Implant?
Ridge augmentation is usually the first step. If you have thought about filling in that gap, one of the best options is to use a dental implant. This involves surgically inserting a small device called a "post" into the jawbone. An artificial tooth is then attached to this base. This looks like a traditional tooth and functions the same way, and is a permanent solution to tooth loss.
When you come in to see us for ridge augmentation, our dental team can help you with other needs you have as well. We encourage you to reach out to us to learn more about our full complement of dental services and how they can work to restore your smile.
Protect Your Dental Health with Help from Lovett Dental West U
The team at Lovett Dental West U is here to provide for all of your dental needs, from simple cleanings and check-ups to more advanced procedures, like ridge augmentation. Reach out to us online today or call 832-617-5530 to make an appointment.