Bruxism is a condition marked by excessive tooth grinding or jaw clenching. Though it most commonly happens during sleep, bruxism can also occur during the day. As recommended by the dental professionals at Lovett Dental West U, nightguards can be an effective solution.
What Causes Bruxism?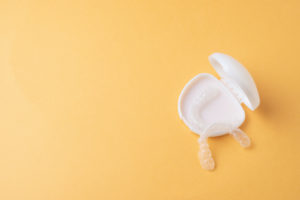 Bruxism is a common condition that can be caused by many factors. These include anxiety, tension, and stress that is experienced during the day.
In some cases, individuals will clench and grind their teeth in response to these stressors and not even realize what they are doing. This is especially true during sleep when a person is not conscious of their actions.
Signs of Bruxism
Some individuals don't know that they grind or clench their teeth while sleeping until their dentist asks them about it. Other people have some signs in the morning when they wake up, including:
Facial pain
Teeth that are worn down
Disrupted sleep
Earache
Stiffness in the jaw
Jaw pain
Headaches
Broken fillings or teeth
When to Seek Treatment
Many people grind or clench their teeth and don't know about it. Individuals who have the following symptoms should make an appointment with their general dentistry dentist as soon as possible:
Pain in their face, jaw, or ear
Their teeth are damaged, worn or sensitive
Their partner informs them that they make a grinding noise during sleep
Reasons for Teeth Grinding
In addition to stress and anxiety, other factors could cause teeth grinding and/or jaw clenching. These include certain medications such as antidepressants knowns as selective serotonin reuptake inhibitors (SSRIs). Sleep disorders like obstructive sleep apnea (OSA) can make it more likely that a person will grind their teeth.
Lifestyle factors can also increase the chances that some people will grind their teeth or clench their jaw while sleeping. Drinking six or more cups of caffeinated beverages per day, smoking, drinking alcohol, and using recreational drugs like cocaine and ecstasy can increase the likelihood of bruxism.
Dangers of Bruxism
It is important to treat teeth grinding and jaw clenching as soon as possible. If you do not seek dental services for this issue, the teeth's chewing surfaces could become excessively worn down, and the tooth enamel is worn away. In some cases, teeth grinding and jaw clenching can be done with enough force that the teeth are cracked or even broken.
How Lovett Dental West U Can Help
A dentist is the ideal professional to address any incidences of tooth grinding and jaw clenching. While an individual's primary care physician can help with resources and support regarding stress and anxiety, a thorough examination by a dentist is necessary to assess the damage to the teeth and their various surfaces.
Nightguards are the ideal solution. Customized to fit the exact contours of a particular patient's mouth, nightguards are made comfortable while acting as a cushion during those times when the patient grinds their teeth or clenches their jaw.
In most cases, nightguards are made of materials like acrylic or laminate. These not only distribute the pressure that grinding and clenching cause, but they can also reduce friction.
For the best results, nightguards for bruxism should be customized to ensure that they fit properly. Not only will this make nightguards more comfortable for the patient, but they will also be more effective as well.
Are you concerned that you or a loved one is grinding their teeth or clenching their jaw while they sleep? Contact Lovett Dental West U at 832-617-5530 as soon as possible to schedule an appointment for a thorough dental examination. We recommend a specific treatment plan that will address bruxism and help prevent any further damage to the teeth.